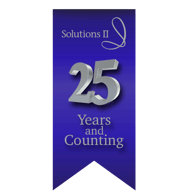 What happened on October 1, 1992? After 10 years of working for someone else, I went into our basement and started working for all of you; my family, our employees and our clients. Why? I wanted to create a work environment that I could be passionate about and proud of. I wanted to provide a place for people to work where they could just do the right thing for each other and our clients. In those days, that was an anomaly and unfortunately it still is today, but not at Solutions II. We are all passionate about our families, our fellow employees and our clients. How cool is that?
I founded Solutions II when I was 34 and I will turn 60 in March. Back then I had a nine year old daughter, a five year old son and an almost one year old daughter as well as the rock of my life, my wife D'Wayn. Well, they are all still around and I could not be more proud of them, including a couple of wonderful grand kids which are the reward for all the hard work! I'm also proud that Solutions II's founding principles and mission are still growing strong. We provide that place for our employees to always do the right thing for each other and our clients and help our clients every day to apply technology to improve their businesses and our world.
Jumping out on your own is normally pretty dumb and I really felt that way until Todd Bowling came on board and kept us moving forward. The two of us have weathered some very interesting storms including the market shifting every few years and some bad times. We bet the farm multiple times (even though we did not have a farm) and still provide the best place I know of to go to work.
I want to thank each of you that has supported us through the years, especially my family, our employees and our clients that keep seeing value in what we bring. I couldn't have done it without you and I wouldn't have wanted it any other way! To the next 25!