Solutions II is a four-time IBM Beacon Award Winner. This prestigious accolade is a testament to the unwavering commitment and exceptional caliber demonstrated by the team in delivering top-tier IT solutions to our clients.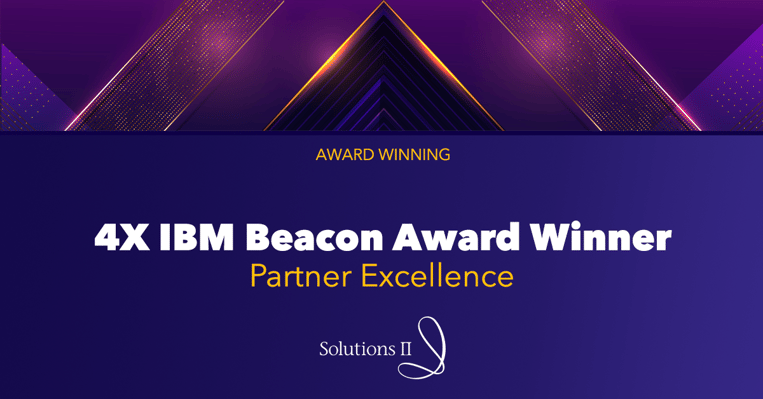 Outstanding Systems Storage Solution
Outstanding Information Infrastructure Solution
Best TotalStorage on Demand Solution
Business Leadership Award

2X Finalist: IGS Teaming for Resellers
2X Finalist: Best Service Management Tivoli Solution
Finalist: Digital Marketing Excellence
The IBM Beacon Award, a hallmark of excellence in the IT realm, is conferred upon business partners who have exhibited an exemplary ability to deliver innovative solutions and drive client satisfaction. The recognition illuminates the exemplary work and significant achievements of solutions providers who have propelled businesses into the future with advanced solutions, facilitating them to traverse the digital transformation journey with ease and efficiency.
Winning this distinguished award four times isn't merely a mark of our technical expertise but a reflection of our sustained commitment to the ethos of client-centered innovation. Each Beacon Award is a glowing endorsement of our steadfast dedication to pushing the boundaries and championing solutions that empower businesses, regardless of their size and domain, to thrive in a digital-driven landscape.
Our journey with IBM has been a collaborative tapestry of numerous success stories, all underpinned by a shared vision of unleashing the full potential of technology to drive business growth and accelerate digital transformation. At Solutions II, we believe in a collaborative approach, and this recognition bolsters our drive to continue to innovate alongside IBM, striving to deliver unparalleled value to our clients and leading the charge in fostering a future where technology is the cornerstone of business success.
We are here to remain at the forefront of technological innovation, redefining what's possible and setting new benchmarks of excellence in the industry.
.