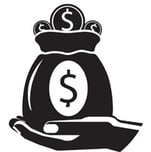 Have you wondered if outsourcing parts of the business would save money? In the case of Information Assurance it's almost a certainty. Consider costs of in-house IT to provide for a secure and functional framework:
Salaries & Benefits
Recruitment costs
Interviewing
Onboarding and offboarding
Technology and other employee hardware/software assets
Management and mentoring employees
Let's review what you can expect from a Managed Services provider such as Solutions II:
24/7/365 Technical Support

- Managed services providers offer Service level objectives and are incented to adhere to them. This translates to quick response time in the event of an outage. Managed service providers are constantly and proactively monitoring client environment. There is a team of experienced professionals on staff to address client issues as opposed to one employee wearing several "technical hats". In addition this lets the client focus on their business.
End-to-end Security - Knowing your network has the best in class and strongest security software gives end users peace of mind. Information Assurance is essential to success and is becoming more and more complicated, in addition the security industry is a dynamic environment with a slew of products and services and markets constantly brought to market, causing a "technology gap" for clients.
Back-Ups - Managed services providers monitor, manage, report and ensure backups are successful and take steps to remediate as necessary. After all, backups are only made so you can depend on it when a restore is required.

Reliable Internet And Phone Support

- A good MSP will have reliable and consistent connections to keep you online at all times, and phone services that feature voicemail to email, automated attendant, number portability, and more.
All of the benefits above are absolute necessities for small-medium sized businesses as they continue to grow, and it's extremely important that these are established before any rapid growth happens. Many of our clients experience growing pains that were exacerbated because of the lack of fully established and planned out IT infrastructure.
Building a relationship with an IT provider can be daunting, as can be handing over the keys to an important aspect of your business, but in today's world you really can't get away with having sub-par IT. If you're interested in seeing how much switching to an MSP could save you, send us a quick email. We would love to talk it through with you!