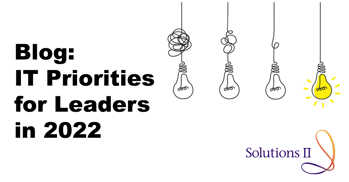 Snow Software published a study at the end of 2021 that surveyed over 1000 IT Leaders from organizations with more than 100 employees. The focus was to understand their top priorities for 2022. They asked each IT Leader to rank their top 5 priorities.
The current top priority is to "Add New Technology to Improve Operations" (cited by 30% of those surveyed). The second priority is to "Reduce IT Costs" (28% of those surveyed). If those priorities look familiar, they should. The same survey done 12 months ago found "Reducing IT Costs" as the top priority (31%) and Add New Technology to Improve Operations as the second priority (27%). Between the poll for 2021 and the poll for 2022, there is little doubt that these two priorities were important in 2021 and will remain important in 2022.
Our Solutions II IT Leadership Roundtables are a monthly forum where we hear from 100+ IT Leaders. We asked about priorities in a recent survey. The top priority (44% of leaders indicated) was to 'Increase Operational Efficiencies.'
When we think about the current state of IT at our clients, we are reminded of a quote from Business Leadership Author and Speaker Andy Stanley, "Growth creates complexity, which requires simplicity."
IT Leaders have been adding new capabilities to enable their businesses to succeed (or even survive) through these past two years of pandemic twists and turns. Many parts of the application stack and the infrastructure have had to be refined or replaced to support new work models and new digital models. In the process, the IT architecture has been altered and expanded. IT organizations went through a fast and furious 'enablement phase' beginning in March 2020. This phase included supporting work-from-home and the rapid release of new digital customer/supply chain platforms. The work-from-home requirements also included the IT employees, many of whom had to perform most or all of their work remotely for at least a period of time. By the end of 2020, many IT organizations then went through their technology stacks and worked on availability, resiliency, and redundancy. Essentially making sure all of their work in the first half of the year was 'production strength.'
Now, as we enter 2022, we believe that the two top priorities outlined in the Snow Software report (Improve Operations and Reduce Costs) are best achieved by embracing a culture of radical simplification. We are careful not to call this a project or an initiative because it is an ongoing approach to planning, building, and operating Information Technology.
Our Adaptable Data Center® Secure Framework for Change evangelizes a 'Four-Step Approach' to radical IT simplification. We have seen this approach yield both (a) improvement in operations and (b) cost reduction. This blog will outline the first two steps of the four-step approach (as you might guess, the next blog will address the third and fourth steps).
Step One: Assess the four indicators of complexity
Assess and document your Technical Debt. What parts of your infrastructure and applications cannot be operated/managed via uniform tools and processes? What parts of your infrastructure and applications are the recurring contributors to availability issues? What parts of your infrastructure and applications are problem children in upgrades, updates, change windows, or security patch application?

Evaluate your ITSM, Monitoring, and Security Tools. Identify overlaps in capabilities.

Evaluate your ITSM, Monitoring, and Security Tools. Identify gaps in capabilities vs. desired capabilities.

Create a high-level map of your applications and services. This does not need to be granularly accurate but only conceptually accurate. Create a legend for the map that shows for each application/service: the employee, contractor, or outside service provider that has some responsibility for the Service Delivery (including security).
Step Two: Skills and Resource Mapping
Compile a list of any open positions that are currently being recruited, open positions planned for 2022, new technologies/platforms scheduled to be implemented in 2022, and a summary of any current skills/resource gaps that exist today.
Sneak Preview of the next blog: Step Three incorporates the artifacts created in step one and step two and formulates a 'complexity metric.' This metric will not be an amazingly accurate scientific calculation but rather serve as a directional indicator that feeds a heat map for simplification. Step Four will take that heat map and make it actionable.