Our Solutions II monthly IT Executive Roundtables were excellent in the first two months of 2022. In 2013, we organized and held no-cost Executive Roundtables for IT Executives to network and exchange ideas, strategies, and best practices. Each month we host Roundtables (via web conference) for SF Bay Area CIOs, SF Bay Area CISOs, Las Vegas IT Executives, and Denver IT Executives. With the flexibility of the work due to the pandemic, we have even added members throughout the United States.
IT Executive Priorities and Strategies for 2022
In January, we held our 9th annual "Roundtable Yearly Kick-Off Meeting," where all four groups met together. That meeting featured three discussions with tremendous Subject Matter Experts. Ralph Loura, CIO at Lumentum, talked about 2022 priorities and longer-term strategies. Michael Piacente, Managing Partner at Hitch Partners, spoke about current recruiting and retention trends and strategy. Finally, we had Devin Ertel, CISO at Menlo Security, talk about Cyber Security strategies and practices for 2022 (and beyond).
Since we have a large group of IT and IT Security Leaders for our combined January Kick-Off Meeting, we used our monthly poll/survey to compare the 2022 environment to 2021. We asked the same questions at our 2021 Annual Kick-Off Meeting as we did at our 2022 Meeting. We found that this year 43% of our group are planning an IT budget that will be more than a 10% increase from 2021. That same question in January 2021 was at 35%. Only 4% of our members are planning for a budget decrease in 2022 compared to 15% who were planning for a decrease in January 2021.
From a priorities standpoint, Business Continuity was one of the highest-ranking priorities among our members – at 47%. This was an increase from 28% in January 2021. See the January poll results below: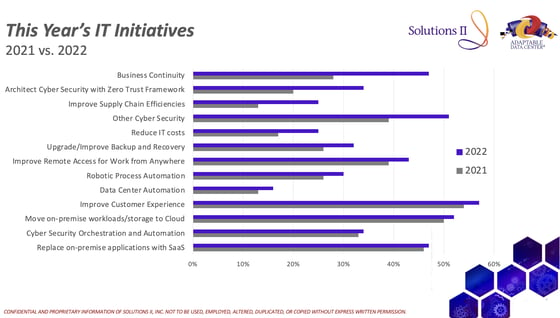 Transformation for Leaders
In February, we featured two different presenters. For Las Vegas and Denver, we were lucky to have Jedidiah Yueh present on "Transformation for Leaders." Jed is the author of the widely read business technology book: "Disrupt or Die." The book is essentially lessons he has learned as founder and CEO of Avamar (sold to EMC) and now founder and Chairman of Delphix.
Our San Francisco Bay Area presenter was John Gallant, SVP of IDG. John presented the details behind the IDG/CIO Magazine 'State of the CIO' research study for 2022 (the 21st annual study). It was interesting to learn from John and the research that the CEOs surveyed have 4 'new' priorities for their CIOs. Since IDG does this same research every year, the comparisons year to year highlight shifting/new priorities. Here are the four new 2022 priorities that CEOs have for their IT Leaders (that were not identified in the top ten priorities in prior years):
Improve the Customer Experience (27% of CEOs had this response)
Create an overall Data/Analytics Strategy (16%)
Improve our hybrid work capabilities (15%)
Accelerate/move to Cloud as a Service (12%)
Overall, the number one priority for CIOs was not a new priority for 2021 but as cited by 33% of CEOs – Update/Improve Data and Technology Security to Reduce Corporate Risk.
This has been an incredible start for the 10th year of the Solutions II IT Executive Roundtables although this is only a taste of what was discussed. We welcome qualified IT Executive leaders to join us in our upcoming March sessions by clicking below!