The urgent need to progress in modernization, digitization, and security has increased the focus on technical debt.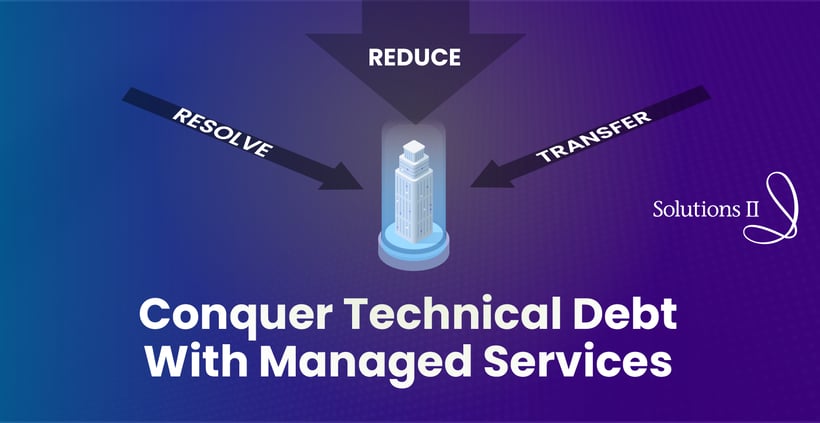 Technical debt is not a new topic or new challenge in Enterprise IT. Today's demands on modernization and digitization of IT capabilities have increased the negative impact of technical debt.
The urgent need to progress your infrastructure in modernization, digitization, and security has increased the focus on technical debt as it acts as a drag (or sometimes an obstacle) to those initiatives.
McKinsey & Company did research (report published in the second quarter of 2023) in which they found that CIOs believe technical debt accounts for 20% to 40% of their entire technology estate. Appropriately McKinsey calls technical debt "the silent killer of technology modernization efforts."**
At Solutions II, we have had tremendous success helping our clients reduce the "drag" of technical debt, which allows our clients to accomplish their modernization efforts while improving their security posture.
Technical debt reduction approaches can be summarized in these categories:


Avoid

Resolve-Replace

Mitigate

Transfer

Accept

Two of these approaches will accomplish the most in addressing the burden of technical debt: resolving and transferring. We have found the most success in helping clients transfer their security risk and management overhead of technical debt through properly scoped Managed Services focused on our client's desired outcomes.
By carefully scoping managed services to targeted outcomes, we help clients address the two main elements of 'drag' that technical debt creates in modernization efforts: The need for specialized skills and technical incompatibility with the desired future state. This is most common when working with legacy applications or infrastructure that cannot easily be replaced.
Technical debt can account for up to 40% of a company's technology estate and can be "the silent killer of technology modernization efforts."

Providing managed services to over one hundred clients is a critical success factor -- designing the services so that they are delivered in a highly cooperative manner, focused on the client's desired outcomes. In doing so, we address a minimum of four pain points:
Legacy Systems require specialty skills that are typically scarce. Hiring, managing, and retaining these types of resources is burdensome.

Application Expertise. Our Managed Services are staffed by very experienced experts who work on similar legacy systems all day, every day.

Scale and Scope of Service. We have the scale to provide around-the-clock monitoring and management.

We build security into everything we implement and everything we do.
Our clients have successfully used our managed services to reduce technical debt. Additionally, this approach's advantageous "side effects" provide predictable costs, reduce capex, provide scalability, and access to advanced technologies.
Solutions II has helped clients reduce $75 million in technical debt annually by providing the roadmap for
Active reduction and resolution
Isolation with third-party expertise
Best-in-class execution and management
**Aamer Baig, Sven Blumberg, Arun Gundurao, and Basel Kayyali, Breaking technical debt's vicious cycle to modernize your business, (McKinsey and Company, 2023)

John A. Wondolowski
Chief Technology Officer at Solutions II, Inc.
Member Forbes Technology Council
Want to learn about ways to reduce your technical debt? Contact us to learn how