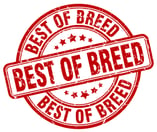 In IT Security, or any aspect of IT, we often refer to products as "best of breed". I've always wondered how a phrase that traditionally refers to animals got added to the IT lexicon. Dog shows award prizes for best of breed and best of show. Typically, the same dog does not win the next year. So, best of breed is really only a single year award. Are IT best of breed one year products?
Should IT security be based upon individual product best of breed?
This may be a mistake. At any point in time it seems that one vendor has something that is better than all others. This best of breed product might be really innovative and address a specific niche. Very tempting to jump on this new item. But, who will perform the integration with your other best of breed products? Will you need to have best of breed administrator skills for each of your best of breed items.
I recently heard an interesting analogy about best of breed. How do you think your car would handle if you used a best of breed approach to tires? You drive to work on the freeway so you want tires that are good at high speed but also have good stopping capabilities. On weekends you like to go fishing so you want tires with good grip on gravel roads. You live where there is rain and snow so you want all weather tires. Off-road might be nice on those days when you decide to fish in the back woods.
So, best of breed would make you buy a radial highway tire for the right front, a rain and snow tire for the left front, an off road tire for the right rear and an aggressive tread tire for that gravel road on you left rear. All best of breed! How do you think this vehicle would ride?
How about if you bought a pair of high speed radials for the front tires and a pair of wider radial all weather tires for the rear? Better ride and a solution from two pair of tires designed to work together. Add slotted chrome wheels that are from another vendor and you would have a nice ride.
Now, apply this to an IT security environment.There probably isn't one vendor for all your security needs. More likely, it is possible to use a few, maybe as few as two vendors, to address most parameter and internal IT security needs. Just like adding chrome wheels, there are a few places where you might need to add little something extra.
An option worth exploring would be utilizing Fortinet and IBM Security for the majority of your IT needs. Both vendors have integrated solutions and single point of control for their solutions. You might even be able to have them working together. Do they have all the answers? No. This is where the chrome wheel guys come in.
Deeper Look at Fortinet and IBM Security Solutions
Fortinet delivers high-performance network security solutions that protect the network, users, and data from continually evolving threats. Fortinet's broad portfolio of top-rated solutions and centralized management enables security consolidation and delivers a simplified, end-to-end security infrastructure. The Fortinet Security Fabric is the first architectural approach to security designed to dynamically adapt to the evolving IT Infrastructure. It intelligently and transparently segments your network, from IoT to the Cloud, to provide advanced protection against sophisticated threats. Each security element in the fabric is also aware of each other, allowing them to share policy, threat intelligence, and application flow information. Fortinet IS the parameter.
IBM Security solutions enable you to detect, prioritize, address and help prevent security breaches. IBM Security solutions are built on a framework that spans hardware, software and services. These capabilities comprise a comprehensive and robust set of tools and best practices designed to cover intelligence, integration, and expertise. IBM offers a rich portfolio of products and services that are organized into three domains that uniquely address client needs.
First is the Security Operations and Response domain that helps organizations orchestrate their defenses throughout the attack lifecycle, the second is the Information Risk and Protection domain that helps organizations protect their most critical information and risks. And the third is the Security Transformation Services which help organizations transform their security program. Disconnected point products and services are expensive, hard to manage, and cannot solve today's challenges. IBM Security helps you establish a security immune system backed by analytics, real-time defenses and proven experts, so you can make strategic decisions about how to safeguard your business.
Integrated Solutions to Fit a Wide Range of IT Needs
So, maybe best of breed is not product specific but is more vendor oriented. Best of Breed vendors such as Fortinet and IBM have comprehensive, integrated solutions that encompass a wide range of IT needs. This decreases complexity, operating costs, and can improve overall IT security.
To learn more, contact us at here, or call 303-339-8146.