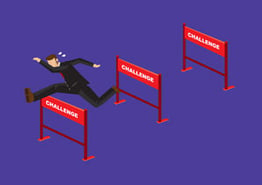 Recently, at one of our CIO Roundtables, we polled the attendees (and then surveyed another set of CIO Roundtable Members who were unable to attend) on their top challenge in 2019. Most Senior IT Executives find themselves in a troublesome state. They don't have the capabilities on board today to adequately run their legacy applications, and they don't have enough ability on board to implement new technologies effectively. Their Enterprise Risk Profile, meanwhile, deteriorates because of the demand/supply deficit that prevents them from recruiting and retaining effective IT Security Staffing. They are interested in new technology solutions but unable to adopt and implement them effectively.
Some of the cause is the rapid innovation of new technology solutions, but the real stress factor is that the unemployment number for qualified Enterprise IT employees in many metro areas is hovering below 1%. The turnover (and risk of impending turnover) is top of mind for Senior IT Executives. Where are they turning for help? Managed Services.
Managed Services provide clients with the ability to have an expert take over the daily operational responsibilities of an over-extended team to improve operations and reduce expenses. Senior IT Executives are finding 24/7 expertise invaluable so that they can allow their internal talent to focus on their strengths within the IT organization. To find out more about how organizations are leveraging managed services, check out this eBook.