Adaptability is key for survival. As Charles Darwin noted, "It is not the strongest species that survive, nor the most intelligent, but the ones most responsive to change."
The same could be said about business. Today, businesses depend on technology, and technology is changing fast. The world we live in today is vastly different than the world we inhabited just 10 years ago. Plus, the pace of change is speeding up exponentially. It's hard to imagine what the world will be like a decade from now.
To keep up with an increasing pace of change and a technological future that even experts can't forecast, adaptability is going to be necessary for survival.
One measure of an organization's agility, or adaptability, is its ability to respond to a disaster.
Advanced data centers can play a critical role in an organization's ability to respond to disaster, change, and cyber threats. Built to be future-proof, the most advanced data centers are designed to adapt to a rapidly changing environment. By separating the software and hardware layers, these advanced data centers can be reconfigured to meet new security requirements or run new kinds of workloads.
This article will take a look at the adaptable data center and how it can play a crucial role in cybersecurity and disaster recovery.
Cybersecurity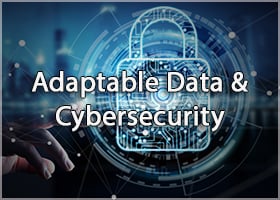 If you study cybersecurity threat forecasts, you'll see lists of emerging technology. For example, some of the top security threats experts are concerned about right now include:
Exploitation of vulnerable IoT devices
Blockchain and cryptocurrency attacks
Phishing using deep fakes
As new technologies hit the market, so do new threats. The adaptive data center is wholly configurable and can be changed to reflect changes in the environment.
In addition, embedded cognitive computing capabilities enhance the adaptive data center by continuously monitoring the environment for patterns and anomalies that are indicators of hacking attempts. As new technologies and related threats emerge, the smart data center can respond and adapt at the speed of change.
Disaster Recovery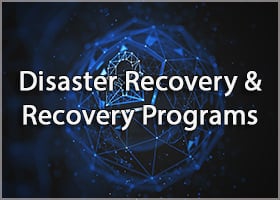 In October 2018, IBM announced the results of a global study that explored the impact of a proactive data recovery plan on both the frequency and cost of data breaches. The study found that organizations with proactive recovery programs decrease the cost and frequency of data breaches by 30%.
The chances that something will affect service are near certain. Many experts say it's not if, but when. Therefore, preparation is the best way to mitigate any potential threat.
Companies that are well-prepared for a disaster are able to restore operations fast. An organization's response to an emergency can have a marked effect on its reputation going forward. A company that is seen as proactive in recovery will be viewed as competent, diligent, trustworthy, and rock-solid.
On the other hand, a late, disorganized response can lead to loss of reputation. Remember FEMA after its delayed response to Hurricane Katrina?
An adaptable data center is a key component of a proactive disaster recovery plan. Backups can be created on a continuous basis and sent to a remote location. When disaster strikes, an organization's infrastructure will automatically switch to the backup. Depending on the nature of your backup and recovery plan, automatic failover can take place within minutes.
A Place for the Adaptable Data Center in Your Organization
Agility and adaptability are two important qualities that help ensure the survival and success of an organization. In today's technologically driven business world, the adaptable data center plays a central role in an organization's ability to prosper.
See how an adaptable data center could improve your cybersecurity, disaster recovery, and operational efficiency with an in-depth data center assessment from Solutions II.