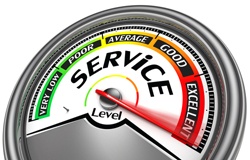 In maintaining and managing your data center, you can spend so much time keeping track of the lifecycle of your equipment and putting out fires that you don't have any time for innovation. Turning over routine maintenance to a managed service provider can produce a greater Return on Investment (ROI) by freeing up time to work on your business goals. Once you are spending less time on upkeep, you can unlock the true potential of your infrastructure.
Beyond the Break-fix
In the past, Managed Service Providers worked like repairmen. Following a break-fix model, they would step in when a problem came up. By the time they responded, your business had already been disrupted and profits were already starting to drain. Today, managed service providers take a proactive approach. Instead of waiting for something to go wrong, managed services focuses on prevention. Managed service providers can also provide 24-hour monitoring and problem resolution.
Taking the housekeeping approach to management can save your business a lot of money. An Avaya study reported that downtime can cost $140,000 to $540,000 per hour. In addition, a Ponemon Institute study estimated that the average downtime lasted 86 minutes, with the average total data center outage lasting for 119 minutes. Regular monitoring, prevents these interruptions and presents you with a larger return on your investment. A flat fee for regular managed services can also reduce your operating costs while mitigating risk.
A Well-run House
A tidy house is an efficient house. As far as storage goes, there's a place for everything and everything is in its place. Newer, mission critical data needs to be processed more rapidly than older, less critical data. Existing storage works at its full potential when automated processes create a more efficient flow of data. A good managed services provider should increase returns on your technology spending by ensuring that all your systems work to their fullest potential.
Solutions II provides services that keep your house in order, even when the worst happens. Our expert staff can serve as your alarm system, protecting you from break-ins, natural or manmade, by ensuring restoration and recovery of critical functions, as well as identifying internal and external threats before they affect your business. In good times as well as bad, our Managed Services help your business make the most of what it has and prepare for expansion when needed.
For more information on how Solutions II can help you leverage legacy systems to boost ROI and improve your strategy, take a look through our managed services offerings!