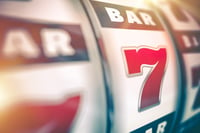 Wow, what a year (2018) for the Gaming industry with tax decreases and some interesting regulation changes, the overall gaming industry grew at an impressive 4.0% compared to the US GDP of 2.9% according to a RubinBrown Gaming Statistics publication. All sectors increased which is very unusual with every state growing when considering the combined revenues.
Beneath the statistics, we see that there are challenges ahead for the traditional brick and mortar Commercial Gaming sector. Major acquisitions and mergers continue with a substantial investment required in Information Technology to improve the user experience. The immense "technical debt" of old Information technology infrastructure must be replaced with robust and agile systems. Most Gaming IT organizations do not have the staff to accomplish this task. It is almost impossible to maintain a team experienced in the operation of existing systems while moving them to the skills of the future.
Growth in the Tribal Gaming Market
The Tribal Gaming market has seen unprecedented growth in the number of new casinos over the last ten years. It is coming to a saturation point in the large population centers which require a renewed focus on the customer and development of a unique value proposition. The capital needed to accomplish these objectives will be restricted by the same "technical debt" in the Commercial Market with even more restrictions and focus on data sovereignty. Requirements will force this part of the industry to identify how to take advantage of newer cloud technology while maintaining absolute control of their data, driving the need for Security skills. Security skills shortage is at an all-time high, and because of the locations of most properties, it is even harder to attract and retain talent.
Guidelines to Building Success
At the Solutions II Gaming Client Advisory Board meeting held on May 2nd and 3rd, we hosted a group session focused on defining the guidelines that should be used to build for success in this "World of Change." The members prioritized three important guidelines for success:
Develop skills to help modernize and automate Data Center Operations.
Control spending.
Futureproof our investments.
We worked to create roadmaps to the future that reduce technical debt and provide the skills that are difficult to retain. We also discussed removing the management of the old stuff from their staff's hands to free them up to develop new skills.
The good news is that Solutions II's Adaptable Data Center® framework is part of the road to success! We understand the unique challenges our clients face in Commercial and Tribal Gaming Industries. We've got the knowledge, talent, and expertise to keep you "Performing Ahead of the Curve!"
Last, but not least, I wanted to extend our most profound appreciation to the Gaming Client Advisory Board members for continuing to help Solutions II strengthen our value.
Our eBook An Inside Look at the Future of Casino Gaming Technology gives insights into the way technology is changing the gaming industry. Read the eBook here!